Happy Monday!!! I have to say I had a very exciting weekend. My sweet husband bought me a new car!! It was not in the plan but just all came together and I am a little in shock and pretty excited. It's not exactly new but a 2013 with only 20,000 miles on it. So it looks brand new!! The other thing that I am elated about is that I finally turned my closet over from fall to spring. This is the biggest load of relief and I cannot believe I finally had a Sunday that I could focus on one project!! Now I can see what I have and maybe plan to shop a little. I have been editing and organizing for my clients all season but I always seem to be behind in my own closet. I was hoping that there was something fabulous from last year that I had forgotten about. NOT!!! I am having to live vicariously through my own blog posts. This is another amazing outfit from Tootsie's that Betsy Gallagher helped me pull together. Denim is everywhere for all occasions and you just can't have too many white jeans!!
First let's talk about this very figure flattering belted denim jacket from Derek Lam 10 Crosby. Isn't it so interesting that denim has evolved from a casual denim shirt to a staple in the closet that crosses all styles and price points? Denim is used to make everything from the iconic Gap jean jacket to shoes to handbags to sunglasses to, of course, the trusty old blue jean and everything else in between!! It is really a new kind of freedom in dressing. Or I guess it is really not that new but it is becoming a mainstay and understood trend that denim is acceptable in more places then every before. You can dress it up or down and feel comfortable in whatever style you fancy!! The jacket I am wearing has a lot of pizazz and I love the fit. It could be worn over jeans or slacks, a simple dress, a slim skirt or shorts. We paired it with my all time favorite, the white flare jean. I love a flare jean with a high heel because it really makes your legs look longer and gives you height plus confidence!!. Wedges are great if you can't stand a high heel. Put it with black and you have a seasonless look. It is on trend with the peplum in that rufflemania category. The white topstitching is very flattering and the belt adds just the right finishing touch. You could wear it over a t-shirt or blouse if you wanted to layer. I always say an outfit needs a third piece as in a jacket or something that really pulls your look together. 
It's kind of funny but I feel I need to say a little something about these fabulous flare jeans. You may have noticed that they are a bit long for me or my heels were not quite high enough. Of course, I would probably have them altered if they were coming into my closet to stay. Or maybe I would just get a higher heel!! Vanity!! However, I have seen many shots in fashion magazines, on the streets of New York, bloggers and retail websites where the jeans or pants looked exactly like this. I just wanted you to see the full length shots to get the idea of how the flare pairs well with this jacket. I think you need the simplicity of the skinny leg to the knee but the flare is a nice balance with the peplum. It's all about proportion after all.
I have always collected novelty bags. I have several from my days of shopping in China town in NYC. I usually hang on to interesting bags and I really like clutches and smaller bags. This is the season to add to your collection of embellished bags. I love the one I am carrying from Lizzie Fortunato. It is such a great size, and could fit all of your necessities and more inside without being bulky. The colors are bright and absolutely gorgeous and capture the palette of this season. It could take you to a casual lunch or fancy party. I think it is very versatile and interesting. It is actually called the Cuban Hibiscus Clutch and has a chain strap for your convenience. Lizzie Fortunato Jewelry has quite a large collection, you might enjoy checking it out. I really love her Fiesta Tassel Earrings. They would be fun with this outfit!! 
Belted Denim Jacket – Derek Lam 10 Crosby
Denim Skinny Flare Leg Pant – Veronica Beard
Embroidered Clutch – Lizzie Fortunato
Sunnies – Ray Ban
Silver Hoops – similar here
FASHION – Tootsie's Dallas – 8300 Preston Road 75225 – 214-696-9993 – Betsy Gallagher
PHOTOGRAPHY – Mary Summers Hafner
Now for the best part!!! I am excited to be participating in my second really exciting giveaway and you will want to enter for sure to win this $1,000 Nordstrom Gift Card. It's your dream shopping spree and you will be set for spring 2017. See below for details  and as always thanks for reading and I hope you win!!!
XO Debby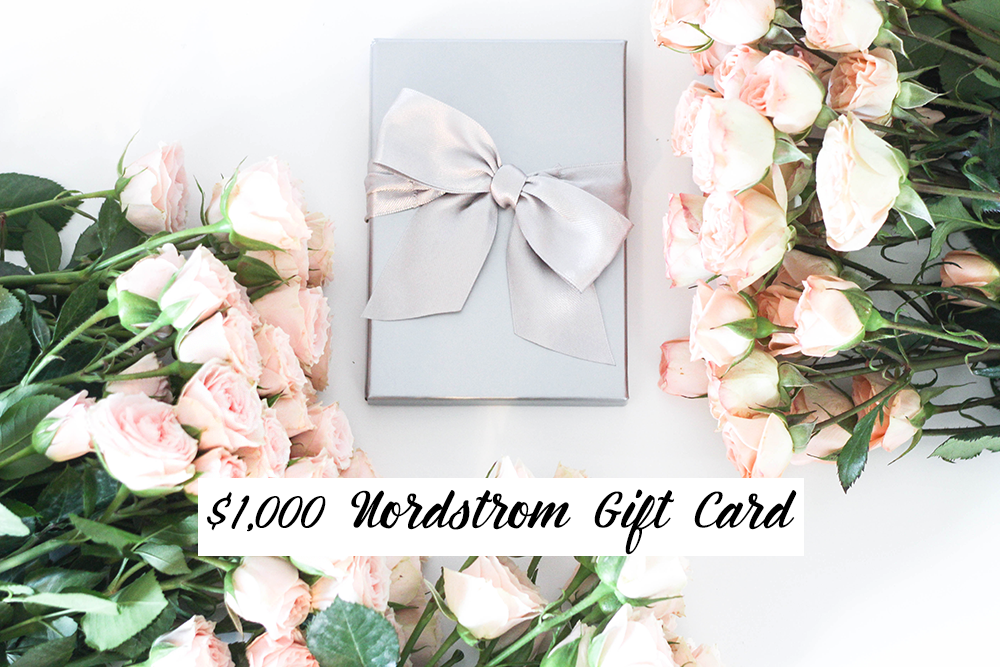 Money Can Buy Lipstick | Busbee Style | Toreys Treasures | Sunsets & Stilettos | Posh in Progress
With Love from Kris | Coming Up Roses | Chasing Cinderella | Sunshine & Stilettos | Life Lutzurious
Glitter Inc | Effortlessly with Roxy | Haute Sweat | Street Style Squad | Nines to 5
So Heather | I'm Fixin' To | Vandi Fair | The Closet Crush | The Polished Posy
Blush & Blooms | My Style Diaries | Side Smile Style | RD's Obsessions | Styled by S
Sabby Style | Fashionomics | Dots & Honey | Pretty in Pink Megan | The Middle Page
Topknots and Pearls | January Hart | The Styled Teacher | Absolutely Annie | Pure Joy Home
Le Fab Chic | Running in Heels | Denver Darling

The giveaway is open to U.S. and Canada residents only! The more "tasks" you complete below, the more entries you will receive, increasing your chances of winning! The giveaway winner will be announced within 2 weeks of the giveaway ending, and will appear on the widget below.