I guess I should be thankful that my hair is healthy and seems to grow pretty fast. At least it feels like the time to get my color done again comes around pretty often these days, especially when it concerns this stubborn gray hair at the temple and above my ear. UGH!!! It is an expensive process and even though I love my hairdresser, LB Rosser, I have found a few quick fixes for those in between periods when he is busy or I am feeling poor!!! I feel so dowdy when I look in the mirror and realize that all of a sudden my gray is showing.
You can see the before and after above. This time I used the Age Beautiful Root Touch-Up temporary haircolor that I bought at Sally's. I spray it on a toothbrush and apply so that I have more control. I try to remember to remove it before going to bed with a baby wipe or make up remover so that it does not get on my pillow or my towel. You just have to find the color that matches your hair most closely and there are tons of choices. I use the light golden brown in this product. I tore an ad out of a magazine recently that looks interesting but I haven't tried it yet. It is L'Oreal Root Cover Up. 
Another temporary solution is using a powder eye shadow with a brow brush for application or a friend recommend Color WOW Root Cover Up that is available at Ulta. This is a powder that works really well. Be sure to remove the powder before having your color done.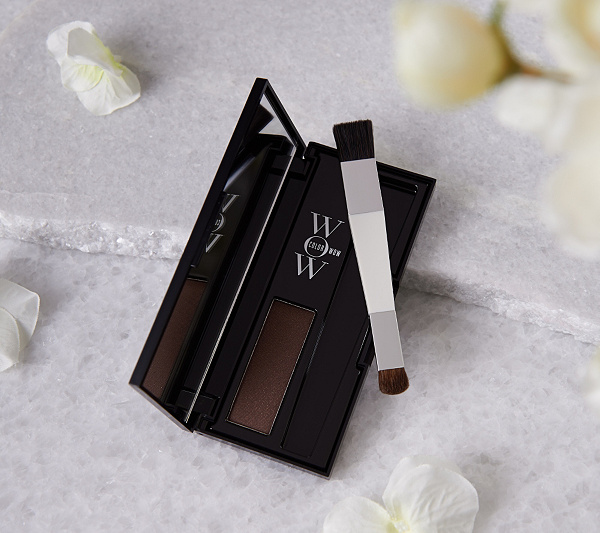 Another product I have used for years is
Clairol Nice'N Easy Root Touch-Up
. Now this one is permanent and requires mixing 2 products together. It is actually very easy and I use the Medium Brown. It takes about 20 minutes to prepare, apply, wait and wash out. It is a great solution to covering the stubborn roots and less costly than a visit to the hairdresser, but I think it tends to dry my hair out and cover up my highlights a little bit even
though I just apply to the roots. The good thing is you can get this at CVS or many stores and it is inexpensive.
I am sure there are other products that work well and I would love for you to share you insight. Once you start coloring your hair it is a lifelong commitment. My mother has always colored her hair so I have no idea how much gray I might really have. I like to think it is just at the roots!!! Beauty knows no pain and maintenance is expensive. But I think taking care of your self is worth the trouble and helps you feel more confident. Updating your hairstyle is a great way to stay on trend and feel like you have had a little boost!! There are lots of ways to fit beauty upkeep into your budget. These root touch ups are just an example of taking care of YOU!!!
As always, thanks for reading and I value your comments and suggestions. If you have any ideas for blogs you would like to read, just let me know.
XO Debby